B O B

J O H N S O N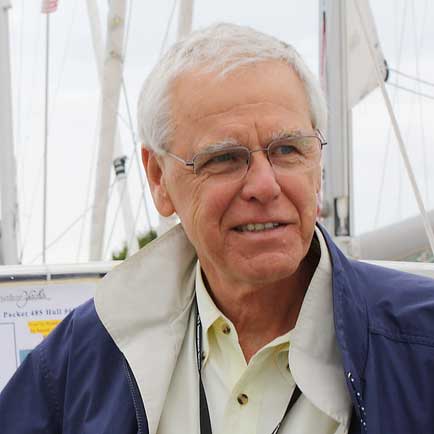 Despite a landlocked childhood in Hartford, CT, Bob's family spent their vacations on the shore, tooling around in his father's old runabout. At the age of eight, Bob took out his own subscription to Yachting magazine and was hooked.
At the age of 14, the family moved to North Palm Beach, FL where Bob was one of a handful of teens at Riviera Beach High to forgo the typical powerboat interest in favor of sails. His family indulged his passion, allowing him to lay out full-sized plans for a 12' sailboat on the living room floor. Bob's father helped guide the boat's construction, and by the time Bob's older brother came home from the service the sailboat was ready for launch.
He clearly understood his calling at an early age: a 9th grade school project was titled "My Career in Naval Architecture." He later received a Bachelor's degree in Mechanical Engineering graduating with High Honors from the University of Florida in 1965 followed by a Master's degree from M.I.T. in Naval Architecture and Marine Engineering in 1967.
With the Vietnam War at its peak, Bob took a job in California with McDonnell Douglas, the aerospace manufacturer and defense contractor, working in the Vibration, Shock, and Acoustics department designing and analyzing various missile system structures. However, exposure to the Southern California surfing market led to his leaving the missile and space industry in 1969 to work on a new range of molded surfboards constructed of lightweight aerospace composite materials.
Bob calls this period his "MBA education" exercising product diversification by applying aerospace materials to surfboards and other water sport gear under the trade name of "Hollow Wave" and manufactured by the Wave Corporation of Ventura, California, and even got the attention of a well-known surfing equipment manufacturer, Dewey Weber.
In early 1974 Bob, his wife Jeri and two young children moved back to Florida where family relatives and a concentration of boat builders attracted him. He was hired as a designer for Irwin Yachts in Clearwater. In six months, he was running the plant, learning the intricacies of large-scale fiberglass boat production, and managing the production of all Irwin sailboat products ranging from 23 to 52 feet.
In 1977 Bob left Irwin Yachts and moved to then 2 year old year old Endeavour Yacht Corporation, also in Clearwater, as head designer. At that time Endeavour was building the Endeavour 32 (a rework of the Irwin 32 by the Endeavour team) and was just finishing the tooling for the new Endeavour 37, a design that was evolved from a Creekmore 34 hull. Bob was responsible for putting the Endeavour 37 into production. Bob soon went on to create totally new designs for the Endeavour 43 and Endeavour 40 (which was later evolved into the Endeavour 42).
In 1979 Bob left Endeavour Yachts to build yachts of his own design, beginning with a Sharpie sailboat known as the "Lightfoot 21" under the company name Traditional Watercraft. When the Bombay Trading Company, another local Florida boat builder founded in the mid-1970's by ex-Irwin Plant and Sales & Marketing Managers (Ross James and Chris Petty) was closed and liquidated, Johnson bought the molds for their then recently introduced Bombay Express, a 26-foot (7.9 m) cruising sailboat to build along with the Lightfoot as Traditional Watercraft's 2nd product. Modifying the yacht's interior, sailplan and underbody, Johnson produced his first yacht and called it, very simply, the "Island Packet". This evolved into many more Island Packet models with the company becoming better known as Island Packet Yachts. Today, Mr. Johnson continues as Chief Designer, CEO, and Owner of Island Packet Yachts, and recently teamed up with Tim Jacket, formerly of C&C Yachts, to introduce the Blue Jacket 40.