Welcome to the Endeavour Owners Photos page. Shown below are numerous images of owners and their boats.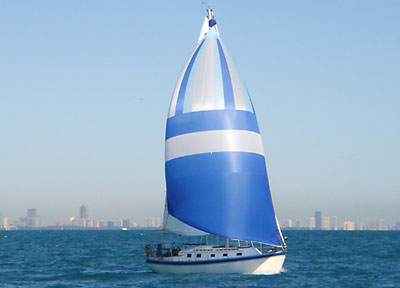 The Uhl's aboard "FRIENDLY CONFINES", a 1982 E32,
on one of their many Lake Michigan cruises.
One of our members Bob Barnhart aboard "SNAG", his E32, at
Cape Lookout, NC. at low tide.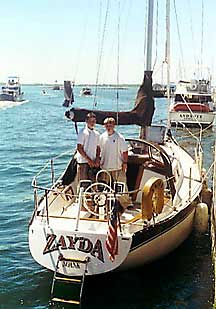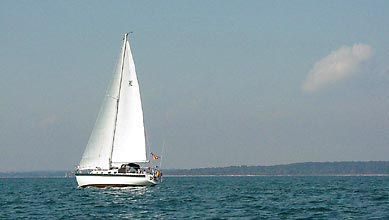 TOP: Christopher Darling and "ZAYDA" dockside at Noank, Mystic, CT.
He and his friend sail off Long Island Sound and recently made his first
crossing to Martha's Vinyard (summer 1997).
BOTTOM: Captain Christopher Darling sailing toward
North Dumpling Island in Fisher's Island Sound, near Mystic, CT.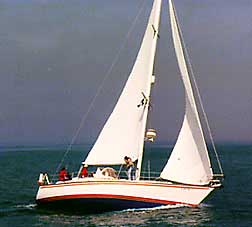 Bill Strauss aboard his Endeavour 38 "SPERANZA" in a
23knt. breeze of the shores of Waukegan, IL.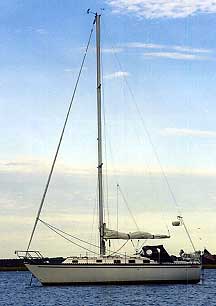 Steven and Carol Glick enjoying a peaceful moment aboard
"MOBY", their 1984 Endeavour 33, anchored at Potter's Cove,
Prudence Island, Narragansett Bay, Rhode Island.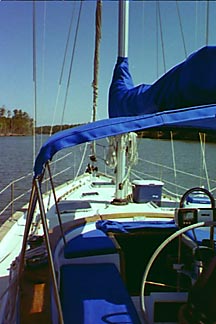 Bud Berry and Diana Boulden do'n the ICW
aboard "ISLAND TIME", their 1987 Endeavour 42.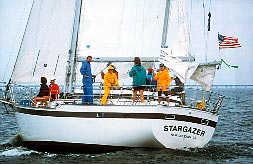 Stuart 'STU' Phillips and friends
Aboard "STARGAZER", a 1978 Endeavour 43.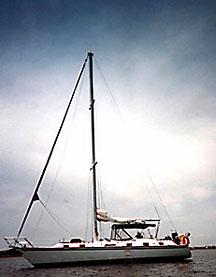 Gary Seeley and the "CALICO CLAM", a 1986 E38,
at anchor in Offuts Bayou, Galviston, Texas.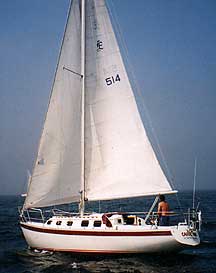 Tom Gilbert Aboard "AMANDA LYNNE", a 1980 E32,
reaching across Raritan Bay, New Jeresy.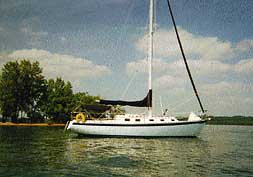 Dave and Joanne Denise with "SCOTIAN II", a 1979 E32,
at anchor on Percy Priest Lake, Tennesse.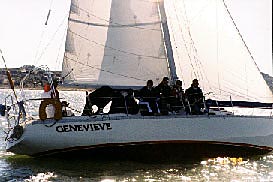 Laura and David Deere with "GENEVIEVE", a 1981 E32, in her very first race.
The Frostbite Regatta was held at Canyon Lake, Texas on Jan 30, 1999, where
Genevieve took 2nd place! With winds blowing 20-25knts and everyone
else reefed, Laura & Dave let her go and she did great!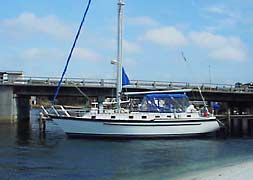 Wayne and Jan Turk with "SEAYA", a 1983 E40.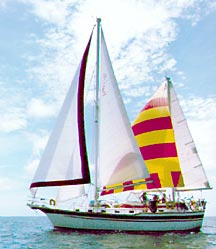 A perfect day on "NEVER LAND", a 1981 E43 owned by Joe and Eve Kovacich,
as they reach across Biscane Bay.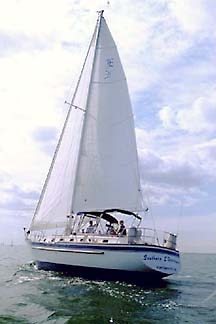 John & Sandi Bartoszek aboard "SOUTHERN L'ATTITUDE", a 1981 E4O,
as they sail on Biscane Bay. Hey John, say hi to "NEVER LAND".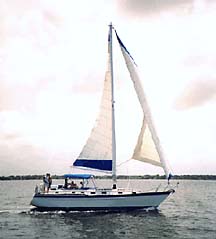 Tom Powers and "PINBALL", a 1984 E4O,
on the Indian River Lagoon, Florida.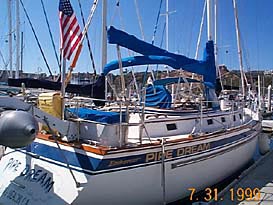 Ferdy Sant's "PIPE DREAM", a 1983 E42, all ready to go.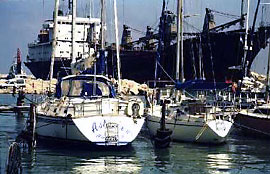 Fred Altman's 1988 E38 "ASTERIX II" moored in Haifa, Israel.
Fred picked her up in Newport, RI in 1992 and sailed her
across the Atlantic and through the Med. to Israel.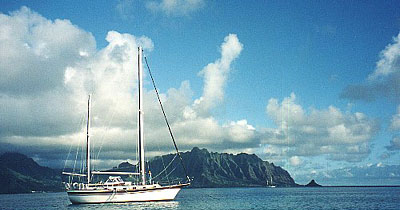 Ah, the life! Rand Heister seems to have found it aboard
"OTHER PLACES", his 1983 E43ketch anchored off the big island.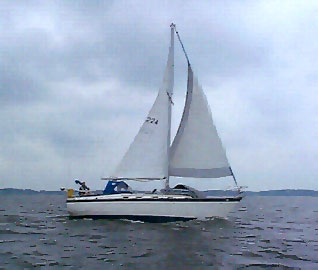 A. C. Whitlow and "SPIDER JOHN", a 1979 sloop rigged E37, leaving
Gwynn's Island on the Chesapeake with the wind about 15knts.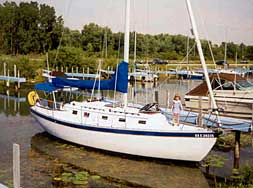 Steven Sic and his 1980 E32 "PEGASUS" with foredeck crew
at it's slip in the Livonia, Michigan area.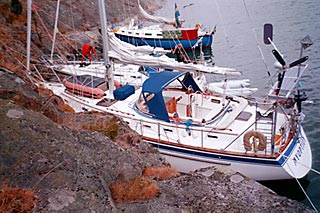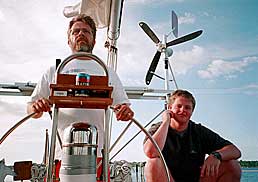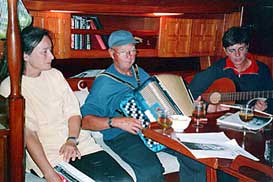 TOP: Lennart Fager's 1983 E40' "MYOPTION" anchored at
Väggön in the central part of the Swedish Arcipelago.
LEFT: Lennart and his son on deck. They have been
sailing Sweden and the near by countries for 20 years
RIGHT: The captain's wife Lilian (LEFT) and friends
enjoying party time—Skol, pass the Akavit!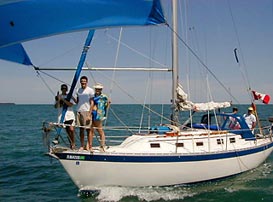 Bradd Wilson & Maeve Railton aboard "ENCHANTE" their 1978 E32 on their
way from Boca Raton to the Dry Tortugas—with 3 teenagers!
Despite the close quarters, they report that they had a ball!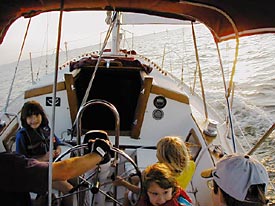 Lee McIntire and crew aboard "Ali'i Kai" for a Saturday sail.
They averaged 4.8knts with 12knts apparent and 2ft seas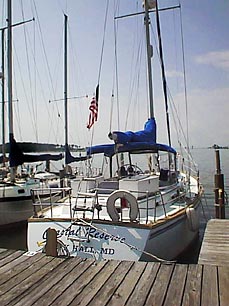 Allen Knapp's E42 "COASTAL RESERVE" (formerly Sun Seeker)
at the dock in Rock Hall, MD.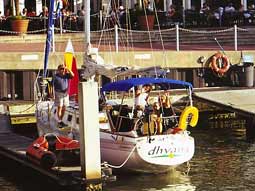 Dennis Jones with his 1979 E32 "DHYANA" reaady for a
party at Harbor House Marina, Galveston, Texas.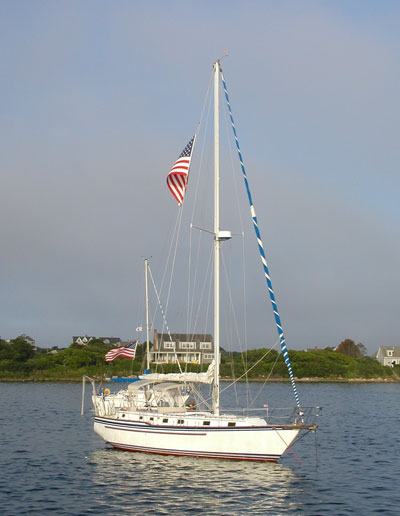 Bob and M.L. Tole's 1984 E40 "EUPHORIA III" at
Block Island, RI on the 4th of July, 2005.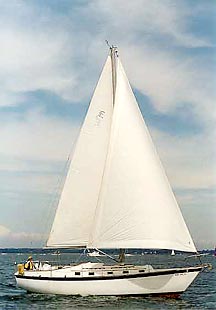 Joe and Laura Wood with "HAPPY PUPPY", their 1977 E37 taken October 1, 2000.
We had just purchased her and were caught by the photographer for Spinsheet
Magazine just outside the mouth of Annapolis Harbor.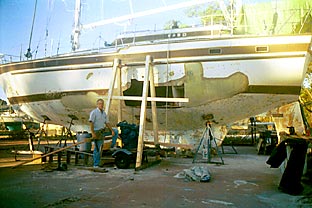 Buzz Segura working on "HURRICANE", his 1979 E43 in
sunny Pensacola Florida. Formerly named YSABELLA (79-80) and
RAINMAKER (80-98), the boat was damaged in Hurricane George.
Buzz is in the process of putting her back together—
here giving her a new diesel.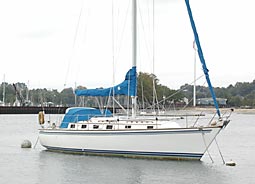 "CURIOSITY", Jon Richards E35 at mooring here in Mamaroneck, NY.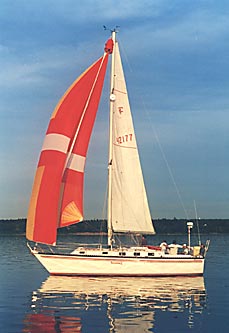 Mike and Denise Brennan's 1984 E33, "IMAGINATION II" on the
Kennebecasis River, New Brunswick, Canada.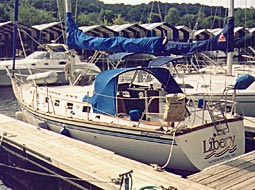 Howard Gilbert's 1984 E35 "LIBERTY" in Bayport, Minnesota.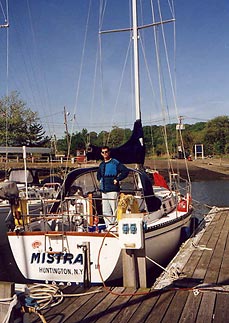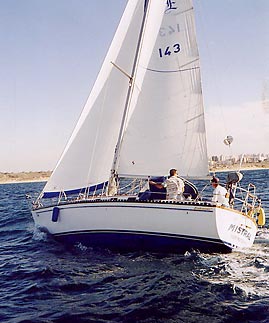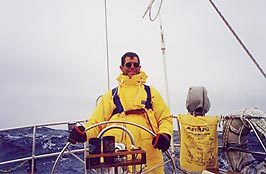 TOP: Henry Gild with "MISTRAL", an E33, in May 1998
at Huntington, Long Island before setting out across
the Atlantic to her new home in Israel.
MIDDLE: When not sailing at home in Israel, Henry
likes cruising in Cyprus and Turkey.
BOTTOM: Henry at the helm a few days out of Block Island.
Never-ending storms took them to the Azores in 18 days.
After 10 days there they set sail for Gibralter and rested for a week.
They then cruised along the coast of Spain where their
wives joined them for a week in July. It was then on to Sicily, Malta,
Crete, Cyprus, and eventually Israel, averaging 110 miles a day.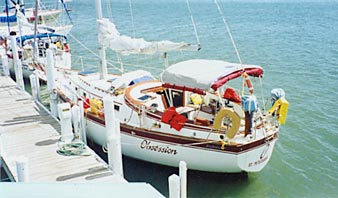 "OBSESSION" an E37 at Captiva Island, FL after
cruising down from Tarpon Springs.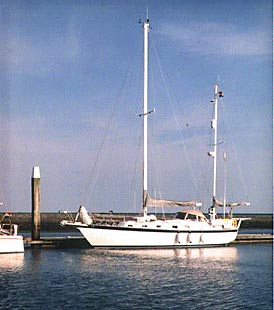 "RELAX" an E37 ketch owned by Jean Paul Bol in the
dutch port of Terschelling, Netherlands.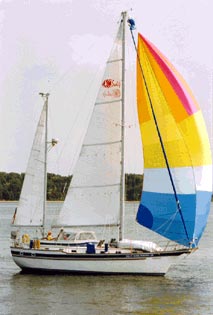 Wolfgang Harms' "SEALIFE", a 1984 E43 ketch can usually be found cruising
the Bahamas, Turks, and Caicos Bahamas, Turks, and Caicos.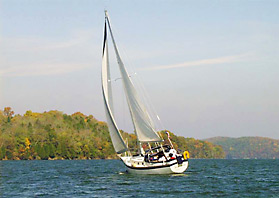 The E37 "SOJOURNER" owned by Alan Mealka
sailing on Watts Bar Lake in Ten Mile, Tennessee.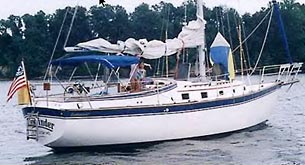 Mark Swisher's "VIEWFINDER", a 1982 E37 cutter w/bowsprit
anchored off Dobbin's Island, Magothy River, MD.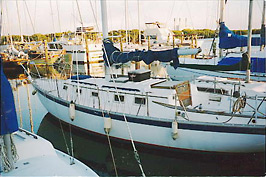 "TENACITY" an E32 owned Billy and Julie Vance before they
completely revamped the boat.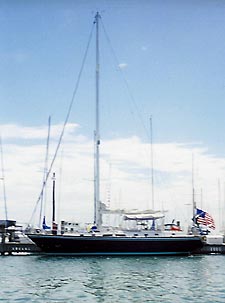 "TOO MUCH FUN" is Fred Lowe's 1988 E42 (#227) in Kemah, TX.,
where he lives aboard.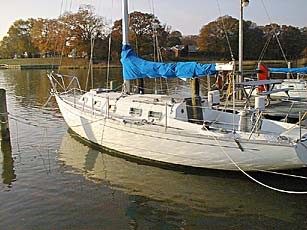 Robert Flath and his "DESTINY", a 1976 E32 keel centerboard. Notice the aft
deck locker and winch pods indicitive of the early E32, when Endeavour
started building the Irwin design.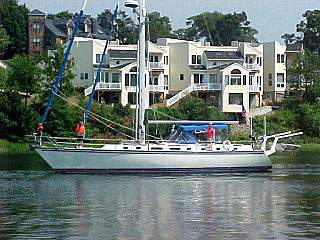 "INTREPID", a 1986 E51 owned by Sean Saslo and Janet Riesman heading
into Branford, CT. Formerly named "DANA A", they hope to enter her
and race in the 2004 Newport to Bermuda Race.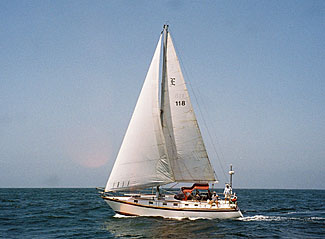 Leonard Bisgrove aboard "VALLEE CACHEE", a 1981 E40, about
4 miles WSW of Point Loma Lighthouse, San Diego Bay.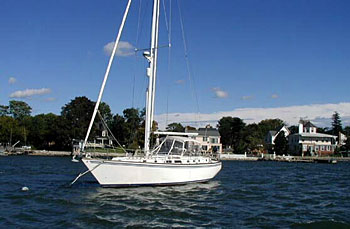 Tom Gilbert's new boat "SUMMER WIND", a 1986 E42.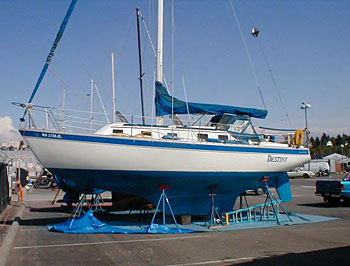 John Krevis' "DESTINY", a 1978 E32, getting a bottom job.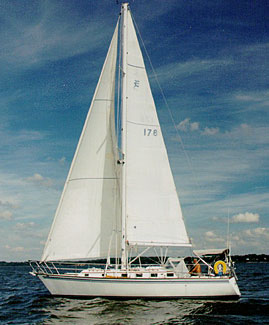 Paul and Sandy Villard on "WAYPOINT", a 1984 E35, sailing the Chesapeake.
They have toughts of heading south.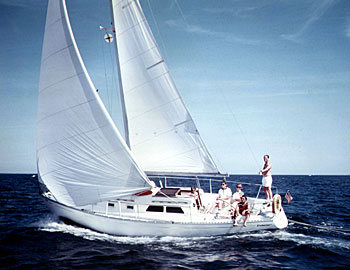 Robert LaFrance is captured here on June 25, 1978 aboard "POSEIDEN III",
a 1975 E32 (hull #8), off Boston Light on their way to
Georges Islands, Maine, some 125 miles.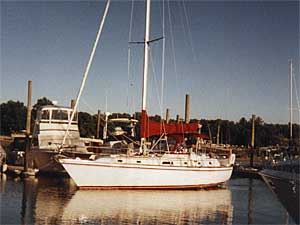 Saul Silverman and his E38 1988 "JOYRIDE".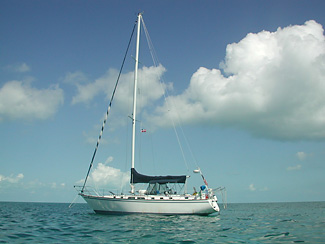 Tom and Karen Prince and "GONE WITH THE WIND", their 1990 E42 at anchor of Bimini.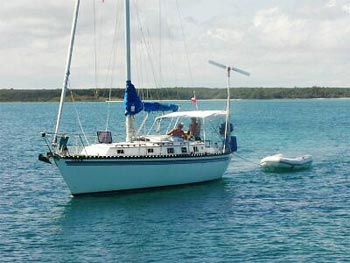 Marc and Nickie Brideau from Saint John, N.B. Canada aboard "LONG REACH",
their 1984 E33 near Little Harbor, Abaco, Bahamas.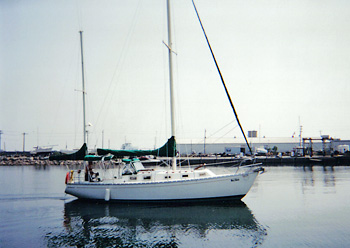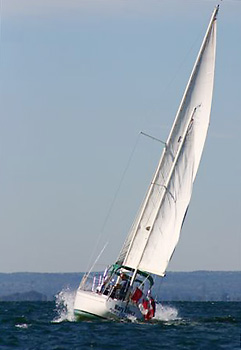 W. T. Simmons aboard a rare 1976 E32 Yawl "MARY EILEEN", the only one we know of.
This appears to be a carryover of the yawl design on the Irwin 32.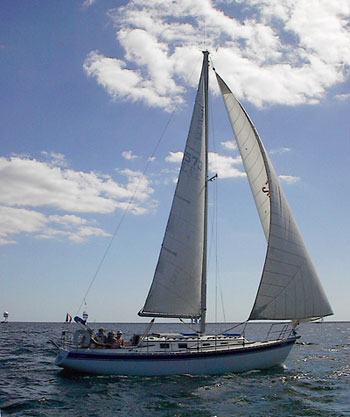 Tom Horner aboard "BENTLEY", his 1982 E32 in a regatta off Marco Island.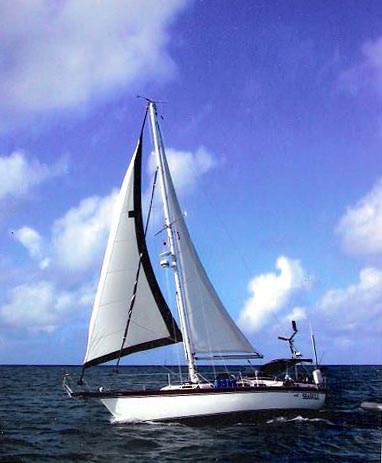 Mike Miller and Salty Dogge romping along in the Jumentos Keys (Bahamas)
aboard their 1981 E37 "SEAGULL" in 2004.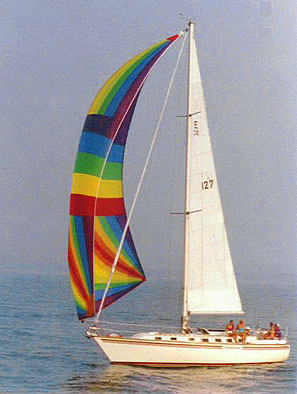 Dick & Debbie Robertsons' 1987 E38 "AIRRELEVANT".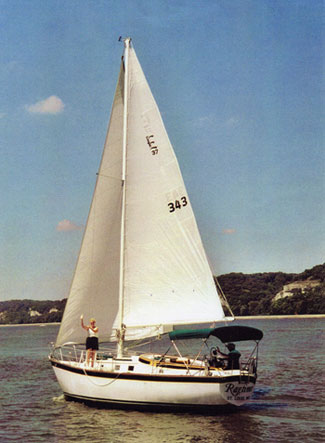 Don and Mary Ellen Morrison aboard "RAGTIME" their 1980 E37.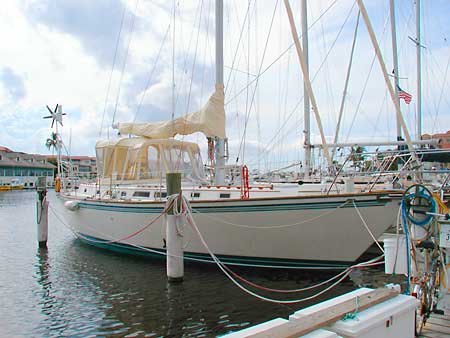 Allen and Lyn Lofland's "EARENDIL", a 1986 E42, at her slip in Punta Gorda, Florida.
Formerly Bacchus, owned by Rick and Donna Cass.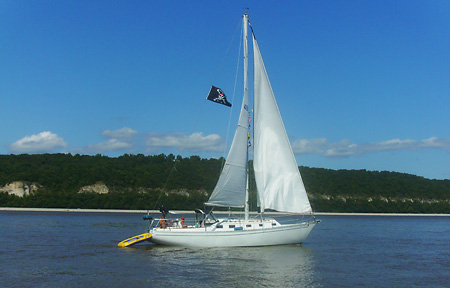 Tyler and Kim Mitchell sailing their 1980 E32 hull 491
"SAINT SOMEWHERE", along —Portage Des Sioux, MO.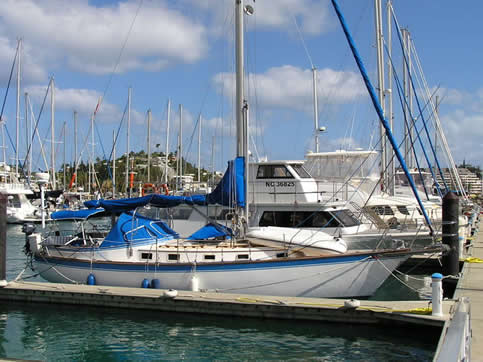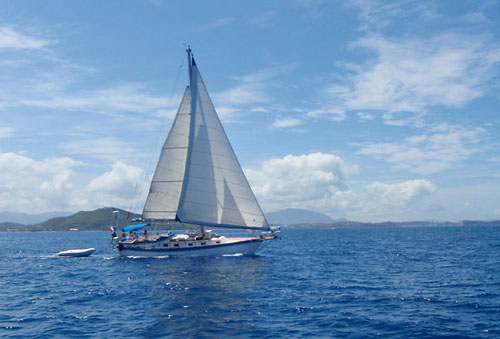 TOP: Alain Besnard and "MAG MELL" a 1982 E37 at her slip in Southern France.
BOTTOM: "MAG MELL" sailing off Nouméa, New Caladonia
(between Fiji and Australia) in the Coral Sea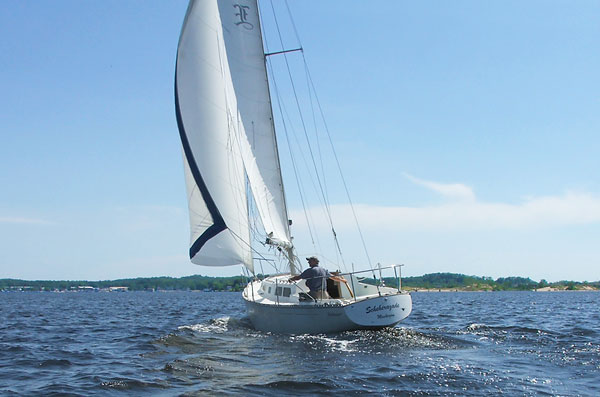 Chris Trabka reaching along aboard "Scheherazade", a 1975 E32,
near Grand Haven, Michigan. Chris is the original owner of hull #7.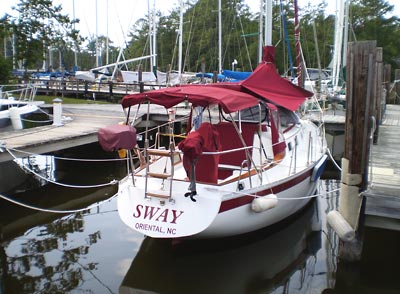 Jiles Hinson and his 1980 E32 "SWAY" from Wilmington, NC.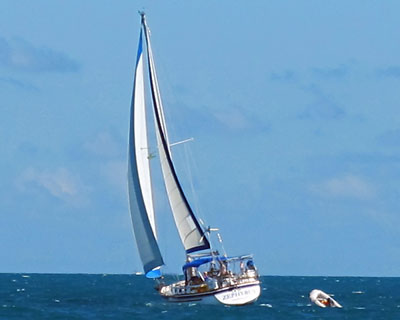 Greg Enz sailing off Key Largo in January of 2013 aboard "ZEPHYRUS" his 1983 E40.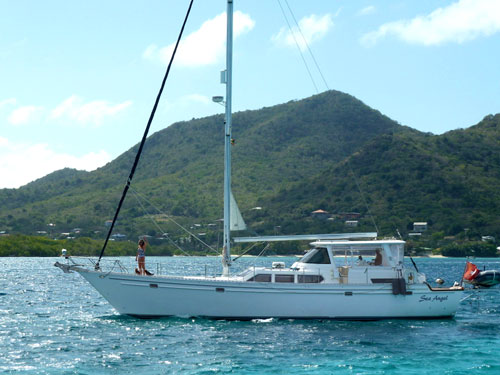 Michel and Marie-Claude Richner aboard "Sea Angel" their
1990 E54 off Carriacou, north of Grenada in the Lesser Antilles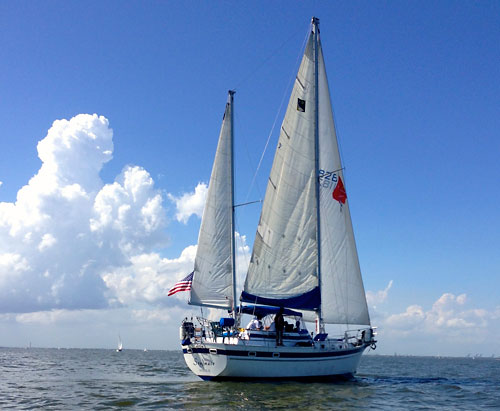 Dan Doke cruising along in light air aboard "Soulmate" his
1980 E43 Ketch on Galveston Bay in November 2013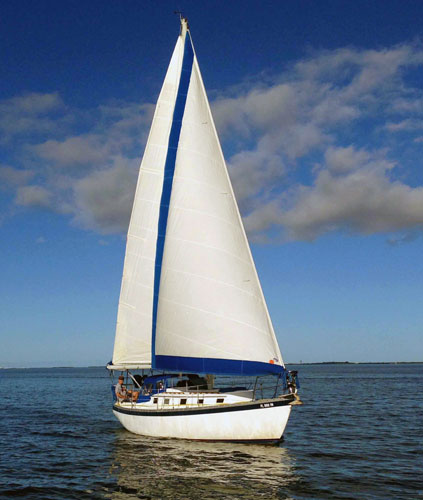 Andy Allen looking smart on the Indian River near
Port Canaveral, Florida aboard "Everlasting Moon," his
1982 E32, in November 2013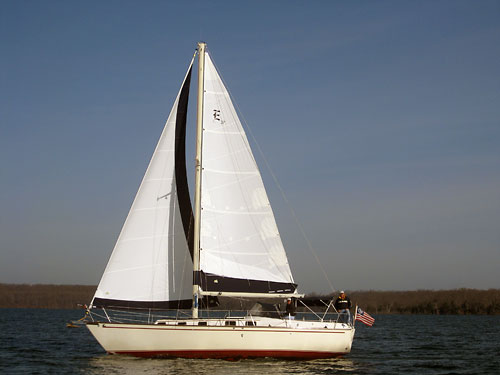 Doug Ousley sailing along aboard "Windy Gale," his
1977 E37. He and Wendy are now full time live aboards in Florida.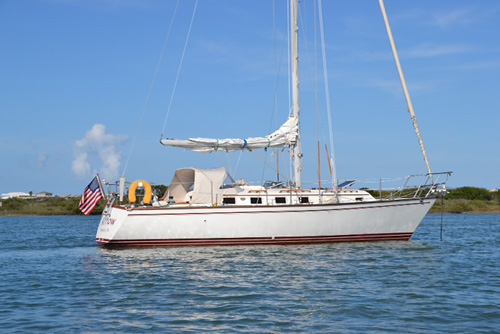 David and Deborah Young with "Arrow" their 1984 E35 anchored in
the Matanzas River near the old fort, St. Augustine, Florida.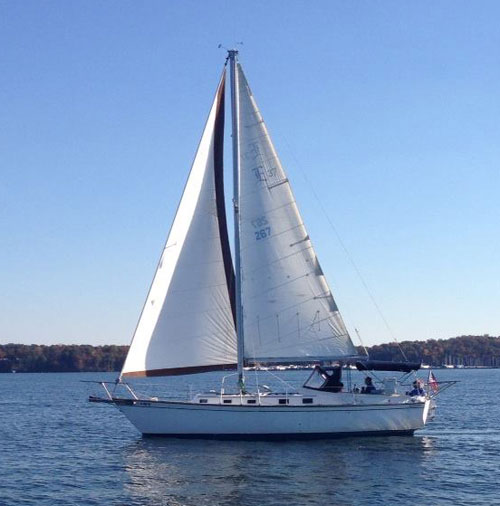 Bill Mills and "Petrel" a 1979 E37 sailing on Lake Lanier, Georgia.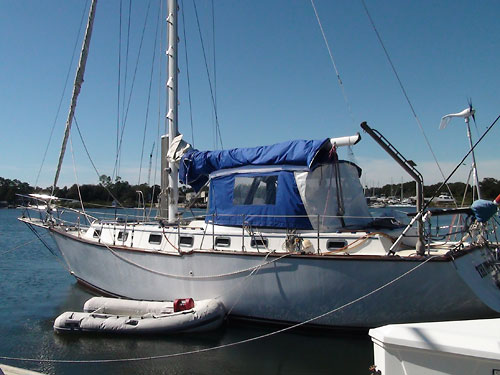 "The Dreamtime" an Australian registered 1981 E40 docked in Key West,
with plans to sail to Cuba. After that—Australia or the Mediterranean.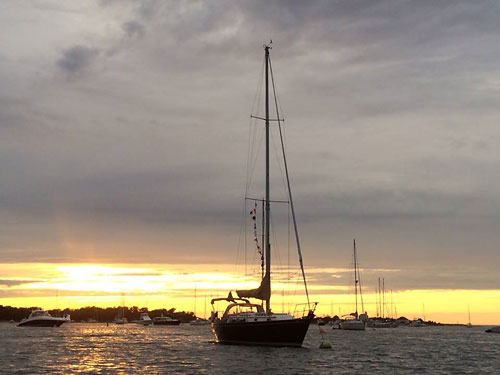 Bud and Tina Franke's 1985 Endeavour 35 "Elixir" moored in
Great Salt Pond on Block Island, RI.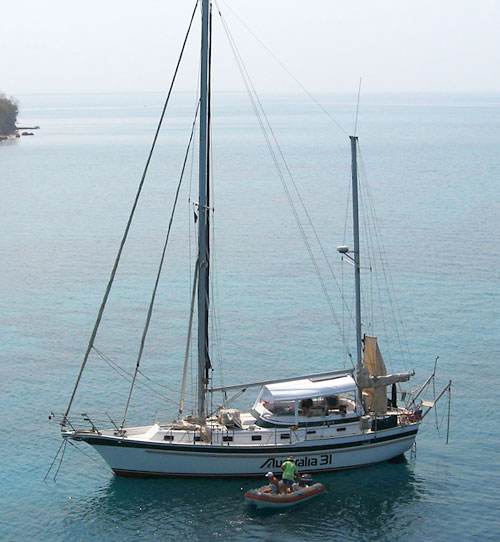 Bernie and Yvonne Katchor's 1978 Endeavour 43 "Australia 31"
---
HOME . | . HISTORY . | . THE_BOATS . | . DISCUSSION . | . INFO / REVIEWS . | . FOR_SALE / WANTED . | . JOIN
©1995-2017 THE ENDEAVOUR OWNERS GROUP