OVERVIEW
Tomorrow's Sunrise survived Hurricane Matthew in Andros Island, Bahamas. The updated list at the bottom of this page shows new items. Tomorrow's Sunrise has passed three very successful sea trials, however there remains some cosmetic repairs. My focus for the past six months has been solely structural and seaworthiness.
FOR SALE IN "AS IS" condition: what's left to do is strictly cosmetic. Still needs starboard stanchions and life lines, paint (we rolled and tipped Awlgrip Matterhorn White in 2009). The Beckson ports are in need of a couple of new lenses, all intact, but some broken securing pieces.
Still needs a new/rewired steaming/foredeck light, Some interior lighting
repairs/replacement, some interior cosmetic wood work.

I intend to sail Tomorrow's Sunrise from Andros Island to Fort Pierce,
Florida at the end of the month. She will be out of the water the month of May in Fort Pierce. I will have the vessel surveyed in Fort Pierce.
UPDATES
Tomorrow's Sunrise has gone through several extensive refits since 2003:
2004/2005
• Rigging refit at Eastport Spar and Rigging, Annapolis, Maryland. Mast and boom to bare aluminum.
• New Awlgrip paint job.
• Redesign reef system; all new mast winch pads, new reef
winch, new running rigging.
• New Mast Step, hot dipped galvanized, cast iron.
• New battery location from aft lazarette to below main
cabin floor, with custom battery trays to keep batteries off keel.
• Rebuilt head plumbing, hoses, valves.
2007
• Below the waterline refit, hull to fiberglass, all repairs made
to hull.
• All new underwater and stern thru-hulls (Groco ball valves: BV Series Full Flow Ball Valves),
• New stern tube,
• New drain thru-hulls in transome,
• New Racor 500ma Series Fuel Filter/Water Seperator,
• New rudder post, 1-1/4" stainless shaft,
• PSS dripless packing system.
• 5 coats Interlux 2000/2001 barrier coat, Interlux Ultra bottom paint. • Remove, clean through new access ports, fuel tank, new racor filter system, new perko water strainers.
2009
• Above water line Awlgrip paint job, Matterhorn White, Clarett
Burgundy boot strip.
2011
• New Seaward LP Gas Cooktop, Princess Model 2277-1100,
• New custom made teak galley drawers below cooktop
• Edson pedestal refit, with new brake hardware, cables, and quadrant,
• Jabsco marine toilet, model 29090-2000,
• New vernalift muffler with associate hoses
• Top side deck painted with Interlux Brightside,
• Edson pedestal painted with Awlgrip Matterhorn White.
• New binnacle cover and winch covers.
• Yanmar, 3HMF diesel serviced and inspected by W.W. Williams certified Yanmar mechanic
2012
• New Mack Main Sail, new main sail cover.
• Forespar davit system with . . .
• custom Morningstar Solar panel installed on top.
• New Magma Catalina barbeque grill
NEW
• Deka Marine Group 31 batteries
• All new battery cables and terminals
• RULE 2000 Computerized Bilge Pump
• Standing rigging, including (2) new uppers, (2) new intermediates,
head stay, back stay, (1) starboard forward lower.
• Mixing Elbow on Main Engine
• Solar Panel, produces 8.4AMPS in peak sun
NEW TO VESSEL
• 8ft CARIBE inflatable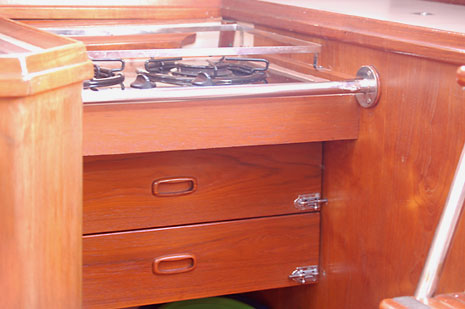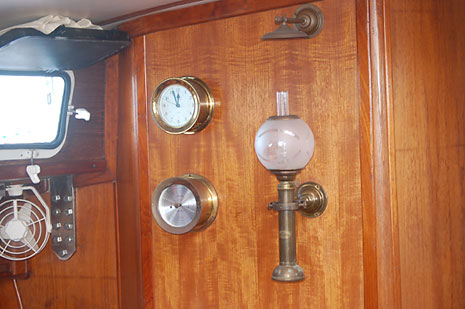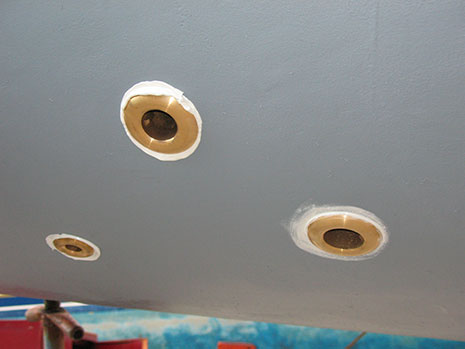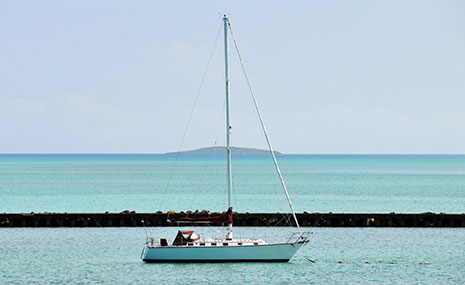 ASKING: US$28,000 OBO — PRICE REDUCED–Owner motivated for quick sale!
Location: Fort Pierce, Florida
All systems on Tomorrow's Sunrise worked perfectlyon trip from Andros Island. Yanmar engine strong and smooth, all systems operational. Currently hauled out and boat in great condition. Have opened a few blisters, letting dry. Will epoxy and fair, then paint. Getting updated survey.
CONTACT:
E} Gary Kingsley
T} 561-832-8566 x2, x4148