J O H A N

V A L E N T I J N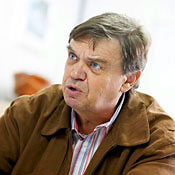 Born in 1948, Johannes Valentijn grew up working at his family ship yard in Holland and studied naval architecture, marine engineering, and business management. He started his design career in 1971 at Sparkman and Stephens in New York as well as designing and project managing for 4 America's Cup campaigns for foreign and domestic US groups including, at the age of 32, Dennis Conners Liberty for the 1983 America's Cup. He also designed France 3 and co-designed Australia, the 1980 challenger.
In 1985 Endeavour Yachts teamed up with the America's Cup designer to produce the Endeavour 42 (1985) and the Endeavour 51 (1985). The first generation of 'Florida' boats that Endeavour had previously been known for, were simple designs with large accommodations, shoal draft with poor windward performance, and were giving way to market demands for better performing designs. The first design Johan was asked to work on was the Endeavour 38 (1984) and finally the Endeavour 52 (1989).
As founder and product developer, he created innovative water tank technology for the U.N. and World Bank. In 1998-2002 he was Production/Yard Manager for Burger Boat Co. in Manitowoc, Wisconsin, USA—introducing modular construction and then involved in developing new organizational structures and optimizing building methods for yacht construction companies in Morocco and France.
In 2008, Iskandar Safa, CEO and financial principal of Abu Dhabi MAR, commissioned Valentijn to create and manage ADMShipyards which delivered the 465-foot, 26-knot Swift141, in 2010.